Internet
99-Year-Old Veteran Is Walking Laps Around His Garden To Raise Money For NHS
99-Year-Old Veteran Is Walking Laps Around His Garden To Raise Money For NHS
April 14, 2020

A 99-year-old WWII veteran is walking 100 laps around his garden during the Coronavirus pandemic to raise money for the UK's National Health Service.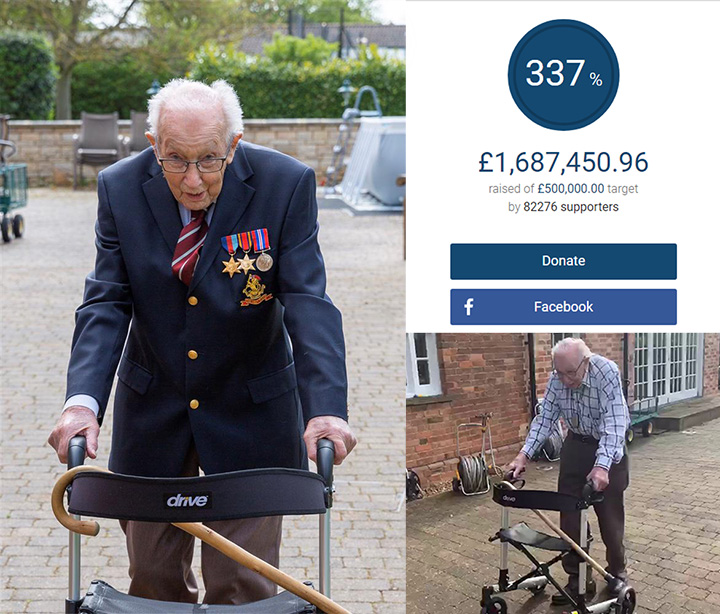 Captain Tom Moore

Captain Tom Moore, from Bedfordshire, England, is aiming to walk 100 laps around his back garden before he turns 100 years old on April 30.

Walking at a rate of 10 laps a day, Captain Moore's motto is "slow and steady" as he traverses his garden. So far, he has completed 70 laps of his 100 lap (1.6 mile) challenge.

Captain Moore says he wanted to fundraise to thank NHS staff after his recent treatment for a broken hip and cancer but his actions during the Coronavirus lockdown has now attracted generous donations from across the world.

His fundraising challenge has become so popular that the Just Giving page crashed briefly as people rushed to donate money.

As of Tuesday morning, Captain Moore's campaign has raised over £1.8 million ($2.2 million).

"I thank the British public from the bottom of my heart," Moore said. "Who would have thought that when I set a target of £1,000 a week ago, it could have reached over a million pounds!"

If you'd like to donate to support Captain Moore's challenge, click here for his JustGiving page.
Please consider making a donation to Sunny Skyz and help our mission to make the world a better place.