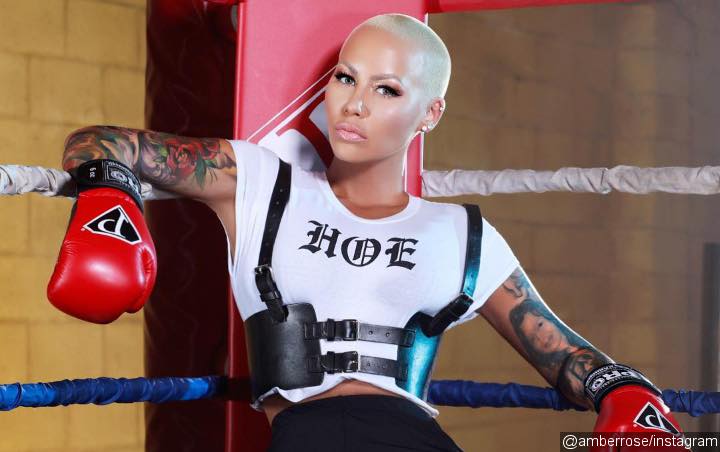 The 25-piece line, which will go on sale later this month, will range from sizes six to 32 and each piece costs between $25 and $40.
AceShowbiz –
Amber Rose has teamed up with designers at Simply Be to launch a capsule collection.
The model and media personality was inspired to create the line after experiencing difficulty finding comfortable clothes after she welcomed five-year-old son Sebastian Taylor Thomaz with ex-husband Wiz Khalifa in 2013.
');(playerPro=window.playerPro||[]).push(i);})();
"After I had my son I was 202 pounds and it took me almost a year to lose the weight," she tells People magazine. "So I was wearing plus-size for a while and I found it very difficult to find easy pieces to throw on that I felt comfortable in."
The 25-piece line will range from sizes six to 32 and each piece costs between $25 (£19) and $40 (£30).
"I just love that it comes in all shapes and sizes," she says. "I'm very body positive and I didn't want to leave any girl out, so we have all sizes for every shape of women. That's pretty much why I wanted to do this line with them."
"I'm a mum, I work a lot," she adds. "I wanted to have easy pieces that I could dress up or dress down and add accessories to them and wear while on-the-go. I wanted something convenient for girls, to kind of flow on and still look fabulous."
And bosses at the U.K. brand are thrilled to be working with Rose as they prepare to launch the company in the U.S.
"Earlier this year we re-launched the Simply Be brand internationally and made a firm commitment to creating exclusive capsule collections for our customers, with different styles not offered within our core collections," a statement from Rich Storer, Vice President of N Brown Group, reads. "We chose to collaborate with Amber Rose because she is a style powerhouse who is fantastically unapologetic in lending her voice and influence to both female empowerment and inclusion to all, no matter your age, size, race, sexuality or gender, all of which aligns to our core brand values."
The collection goes on sale later this month.
Next article


Pharrell Williams' 'Lemon' Video Star Mette Towley Announced as New Revlon Ambassador