Latest
Bad Mother? Kim Kardashian Terrorizes 3-Year-Old Son Saint With Spider Filter
By
|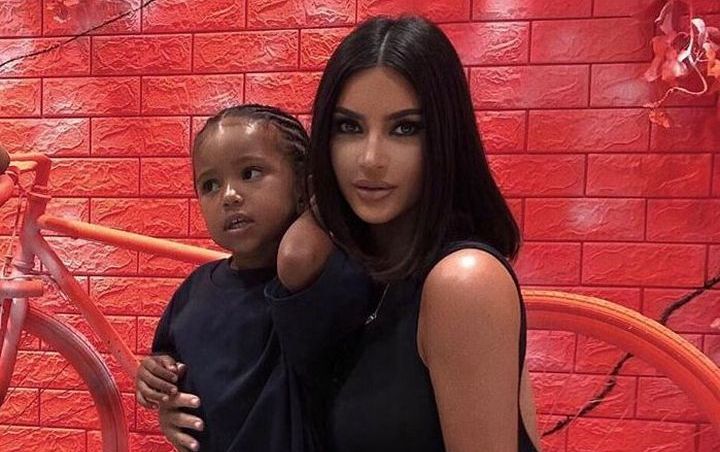 Kim receives mixed reactions online after she posted videos of her little kid screaming in terror when a huge digital spider appeared to crawl on his face.
AceShowbiz –
Kim Kardashian terrified 3-year-old son Saint with spider filter and documented it on her Instagram Stories. The mother of four was in the backseat of a car with her children as she got her phone on Saint's face with the filter on. The little boy looked curious at first as his mom told him to wait.
Once the digital spider appeared on screen looking like it was crawling on his face, he screamed, struggled out of his mom's embrace, and scrambled away. Clearly afraid of the eight-legged animal, he pushed the phone away while his mom and 6-year-old sister North were laughing.
Kim faced mixed reactions on the internet. Many criticized her, calling it a cruel prank. "Terrible parent to terrify the child purposefully," one commented. "He's truly afraid. Not cool," another penned. "Now scared for life, clever mummy," a sarcastic individual wrote. Another said, "I would never even think of scaring or upsetting my son like that. Why would she think it funny to give her 3 year old son arachnophobia? Bad mother."
Meanwhile, a person chose to focus on the fact that Saint was not strapped in, "Why is he not in a car seat strapped in?? Especially when you can see it's moving!!! For someone studying to become a lawyer, no common sense!"
However, some defended the "Keeping Up with the kardashians" star, dissing the critics for being too uptight. "Oh God, lighten up people!" one wrote.
Kylie Jenner previously played a similar prank on her own young kid Stormi. Instead of getting scared of the creepy crawler, the little girl smiled cutely and said, "Spider." Even when her mom tried to scare her, little Stormi was not fazed. "He's on your face. You're not scared?" Kylie asked. "You like?" The toddler replied, "Yeah."
Kim herself is an arachnophobia. "I am deathly afraid of spiders," she told Ellen DeGeneres in a 2018 interview. "I will literally cry if I see a spider. My daughter [North West] has been begging me to go to this stupid spider exhibit in town and you walk and there are spiders everywhere. They could just jump on you or land on you."
Spider is also her sister Khloe Kardashian's nightmare. In August this year after Kim shared a picture of spiders found inside a box in her garage, Khloe commented, "Kimberly's tarantula photos had me up all night long! I kept thinking tarantulas were all over me @kimkardashian."