Internet
Bruno Mars Donates 24K Thanksgiving Meals To Salvation Army
Bruno Mars Donates 24K Thanksgiving Meals To Salvation Army
November 12, 2018

Bruno Mars is ending his 24K Magic world tour on a high note by making sure that 24,000 people enjoy a hot meal on Thanksgiving Day.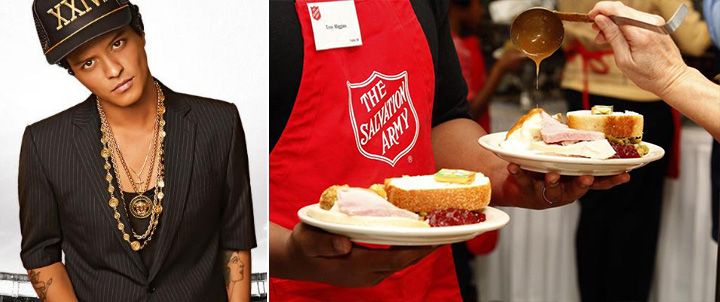 Mars announced he is making a donation to the Salvation Army annual Thanksgiving Dinner meal program in Hawaii that will provide 24,000 meals to local residents.

The number of people who will benefit from the donation comes from the name of his hit song, album and tour, 24K Magic.

The Hawaii-born singer wrapped up his global tour at Aloha Stadium in Honolulu, where he made the announcement.

The Salvation Army feeds an average of 156,000 meals every single day. To find out how you can help, click here.
Please consider making a donation to Sunny Skyz and help our mission to make the world a better place.