Internet
Canadian Man Has Heart Attack While Jogging In Florida. Heand#039;s Saved By A Stranger – From His Hometown
Canadian Man Has Heart Attack While Jogging In Florida. He's Saved By A Stranger – From His Hometown
April 19, 2019

A Canadian man vacationing in Florida suffered a heart attack was saved by a stranger passing by who happened to be from the same Canadian town.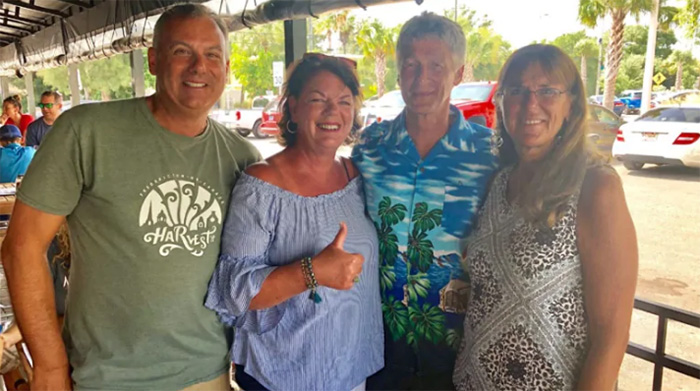 Sandy MacNeill, left / Tom Reddon, right

Tom Reddon, from Fredericton, Canada, went out for a morning jog with a close friend in Indian Rocks Beach when he suddenly collapsed.

Two women soon arrived. One called 911 and the other went searching for help. She found Sandy MacNeill, who was walking nearby with a friend, and asked if either of them knew CPR.

MacNeill had taken several CPR courses over the years but had never performed the life-saving procedure in a real-life situation. Without hesitating, he rushed over to Reddon and started the emergency chest compressions and mouth-to-mouth resuscitation.

"Tom didn't have a pulse, so I just made sure somebody had called 911 and then continued to give CPR until we heard the sirens and the fire trucks showed up," MacNeill told CBC News.

Emergency crews arrived and transported Reddon to the hospital where he is still recovering after surgery.

Reddon says the last thing he remembers is the warm-up walk. "Next thing I remember is waking up two days later in the hospital."

Reddon got a chance to meet MacNeill last weekend. It turns out MacNeill is also from Fredericton, Canada.

"We got along famously well, and I think we'll get together when we get back in Fredericton over a craft beer or two and talk about life and stuff," Reddon said.

MacNeill had a different idea. "I think maybe we should all meet at a CPR course."
Please consider making a donation to Sunny Skyz and help our mission to make the world a better place.