Latest
Chris Brown Hints at His Newborn Baby's Name
By
|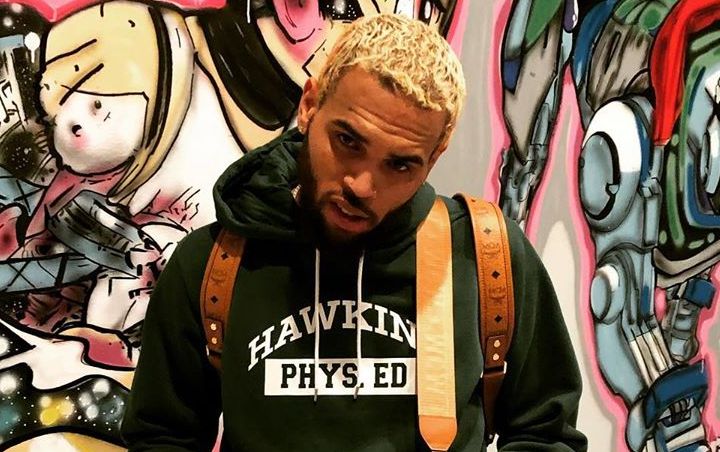 The 'Look at Me Now' singer seemingly reveals to his online followers the name of his second child with baby mama Ammika Harris and then fuels the speculations.
AceShowbiz –
Chris Brown may have given a hint at the name of his second child. According to latest investigation by eagle-eyed internet sleuths, the 30-year-old R&B singer's newborn baby with his lover Ammika Harris is named Aeko.
Fans noticed in a new Instagram picture that Breezy donned a jacket with the words "RORO & AEKO" printed on his left chest. Since Roro was widely known as the nickname of his first child Royalty Brown, fans immediately assumed Aeko might be the name of his second child.
The "Look at Me Now" singer initially didn't write any caption, but soon after the speculations spread online like a wildfire, he updated his original picture by adding a short message, "RORO & AEKO(ECHO)," ultimately adding fuel to the rumors.
Chris Brown's second child is rumored to be a boy, but that may not be the case as a fan claims Aeko is a feminine name. "The name AEKO is of Japanese origin and means 'rare,' another hint: it's a feminine name..," the fan explains on Twitter.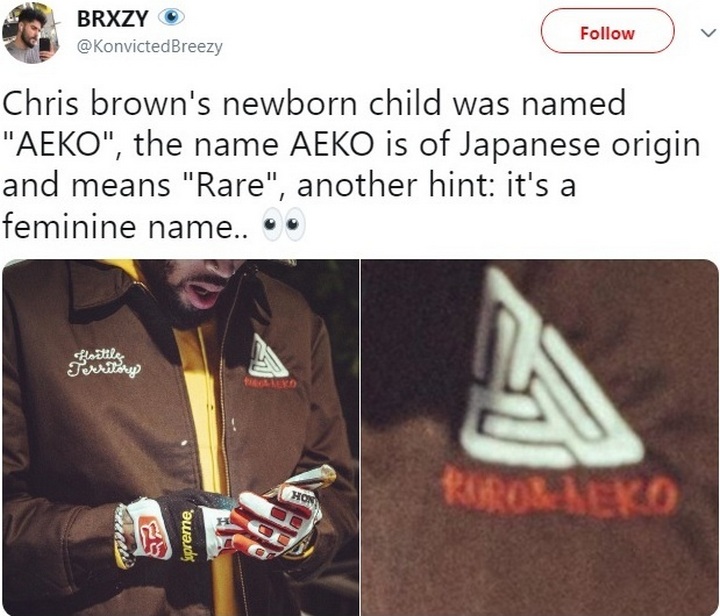 Online speculation about the name of Chris Brown's baby
Chris Brown dated Ammika Harris on and off last year. In May this year, he first sparked rumors that he had impregnated her when he left a comment on one of her Instagram posts. He wrote "BM Bad" complete with a kissy-heart emoji face.
Amid the pregnancy rumors, the pair often exchanged flirty messages on social media. In a picture of her eating watermelon, Chris left a cheeky comment, "Dats all I'm eating too [devil emoji] [smile with hearts emoji]." She then replied, "Come home already."
They were also supportive of each other's works. In one post, he sang praise for her artwork and affectionately called her "babe" while she said he was her "motivation." He additionally got her face spray painted on the side of his tour bus, and ultimately got her stamp of approval. "AMAZING…Literally blushing right now," she commented.