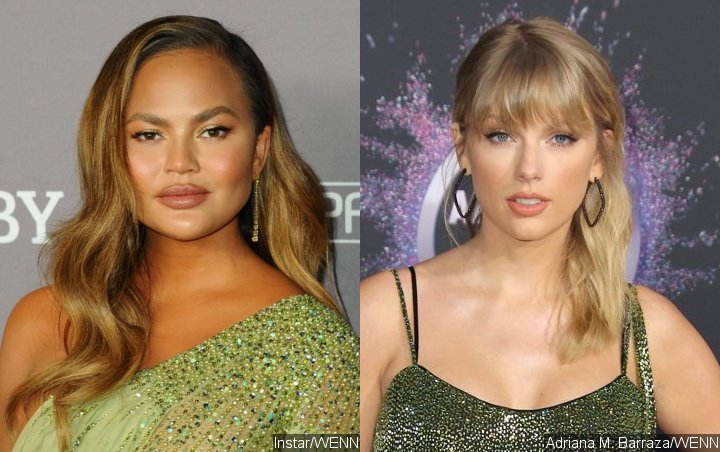 The 'Lip Sync Battle' co-host jumps to the 'Lover' singer's defense after a Twitter user creepily points out that Taylor is almost 30 and hasn't been pregnant yet.
AceShowbiz –
Chrissy Teigen isn't afraid to talk back, not only to someone who trolls her, but also to a person who targets a fellow female celebrity. The 34-year-old model has recently come to Taylor Swift's defense after a Twitter user creepily commented on the country-turned-pop superstar's fertility.
The said troll named Stefan Molyneux expressed his disbelief that the "Lover" songstress is almost 30 years old now and has not been pregnant yet. "I can't believe Taylor Swift is about to turn 30 – she still looks so young! It's strange to think that 90% of her eggs are already gone – 97% by the time she turns 40 – so I hope she thinks about having kids before it's too late!" he posted, adding, "She'd be a fun mom. :)"
Many found his tweet "creepy," including Chrissy who wrote back, "uhhhh you're a f**kin weird a**." Agreeing with the wife of John Legend and the mother of two, others posted comments like, "unless you are eating breakfast with your wife, stop thinking about women's eggs, stefan" and "Ok pervert. What kind of creepy weirdo are you to be obsessed with a stranger's sex organs and genitals, what she does with them, and then to publicly tweet about it? Your name needs to be on list."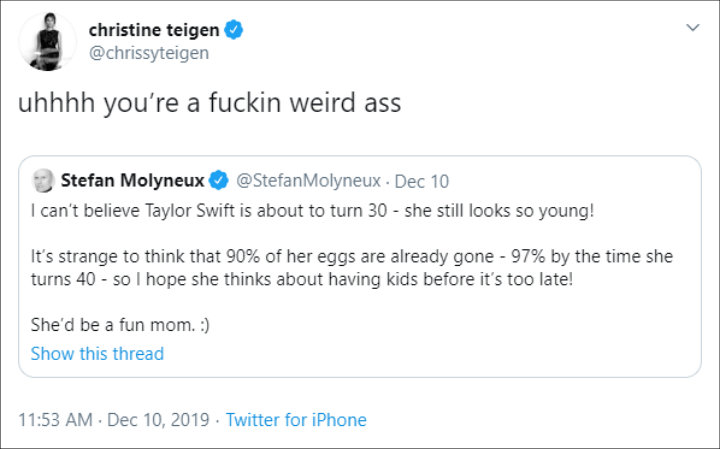 Chrissy Teigen defends Taylor Swift after a 'weird' Twitter user comments on the singer's fertility.
But Stefan has defended himself, claiming that his tweet was not a diss aimed at Taylor, but merely a suggestion for the 29-year-old singer to consider having a kid. "First of all, my tweet is not for Taylor Swift, who will most likely never read it. Secondly, reminding people of the joys of parenthood is not 'creepy af.' I assume your parents enjoyed raising you, was that creepy?" he replied to someone who called him out.
"I talk about the joys of parenthood, and people get insanely enraged – it's like modernity has devolved into some kind of death cult," he added in another post. "I'm sure Taylor Swift would not be offended by someone reminding her to think of having kids. She doesn't strike me as rabidly hysterical."
While she has not responded to Stefan's tweet, Taylor previously spoke out on women's discomfort at being asked about marriage and having kids. The Grammy Award-winning artist told People magazine, "The more women are able to voice their discomfort in social situations, the more it becomes the social norm that people who ask the questions at parties like 'When are you going to start a family?' to someone as soon as they turn 25 are a little bit rude."