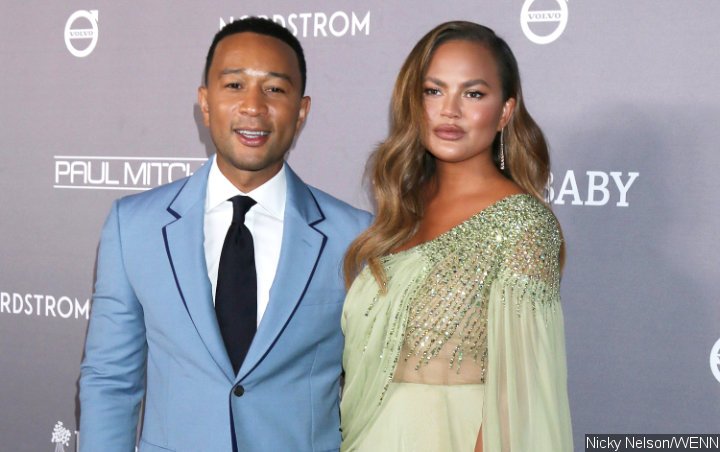 Despite the trollings, the 'Lip Sync Battle' co-host can't help but brag about her husband's new title as she announces on Twitter that she has updated her bio on the blue bird app.
AceShowbiz –
Congratulations are in order for John Legend and his proud wife Chrissy Teigen. During the Tuesday, November 12 episode of "The Voice", the singer was named as PEOPLE's Sexiest Man Alive. The announcement was made by none other than Blake Shelton, who held the title in 2017.
"I was excited, but I was a little scared at the same time because it's a lot of pressure," the entertainer tells the magazine in this week's cover story. "Everyone's going to be picking me apart to see if I'm sexy enough to hold this title. I'm [also] following Idris Elba, which is not fair and is not nice to me!"
In addition to talking about how supportive his parents are, the 40-year-old EGOT winner gushes over his wife and their children Luna and Miles. "I'm so proud that I have a wife and two kids I'm so in love with and so connected to. I'm also so proud of my career," he shares. "I love writing songs and performing on stage. I get a lot of joy from it and give a lot of joy to other people. I'm pretty at ease with myself now!"
Meanwhile, Chrissy celebrated her husband's milestone by trolling him on her Twitter account. "My secret is out. I have fulfilled my dream of having boned PEOPLE's sexiest man alive!! An honor!!!!!" the 33-year-old "Lip Sync Battle" host said of her husband of six years.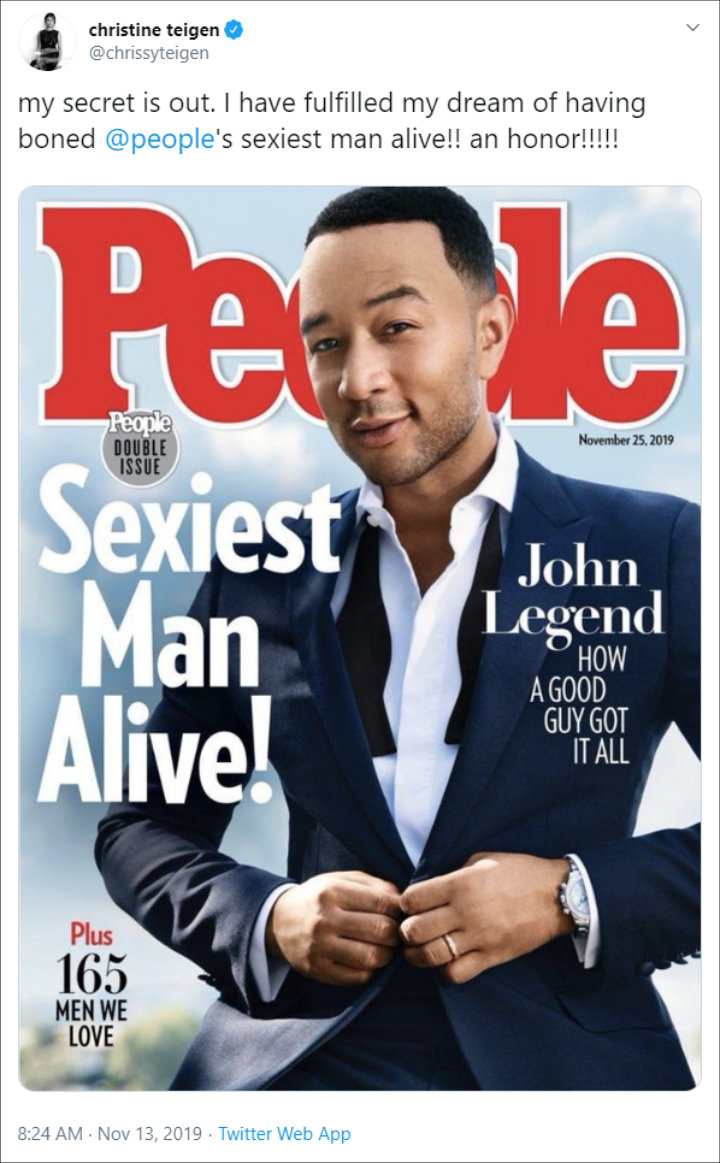 Chrissy Teigen shared epic response to John Legend being PEOPLE's Sexiest Man Alive.
In another tweet, the model wrote, "I cannot WAIT for people to get mad about John being the sexiest man alive. It's my new Starbucks holiday cup." She then added, "no don't send it to me please. I like to see these people naturally, in the wild."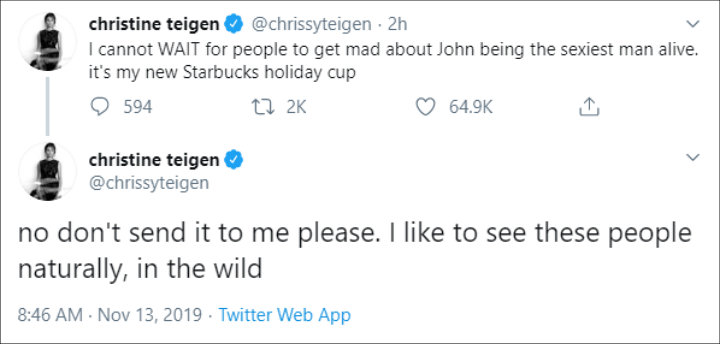 Chrissy alluded that her husband would get backlash over the title.
Chrissy also shared a video of her asking her kids whether they were happy that "daddy is the sexiest man alive." While 18-month-old Miles was heard wailing for an unknown reason, 3-year-old Luna then nodded her head before saying, "I want to watch the movie, mom." Captioning the clip, Chrissy wrote, "The kids…do not care."
She also responded to John's tweet which read, "1995 John would be very perplexed to be following 2018 @IdrisElba as #SexiestManAlive. Hell, 2019 John is about as equally perplexed but thank you @People for finding me sexy. I'll take it." Chrissy jokingly mocked her husband, "yeah but let's see an @idriselba pic from 1995 (prob still very hot)."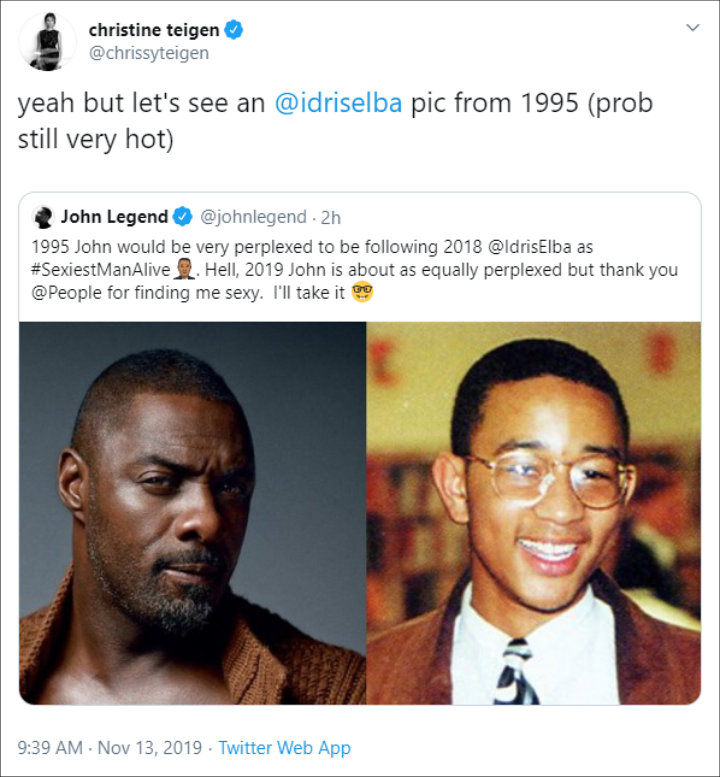 Chrissy compared John with Idris Elba.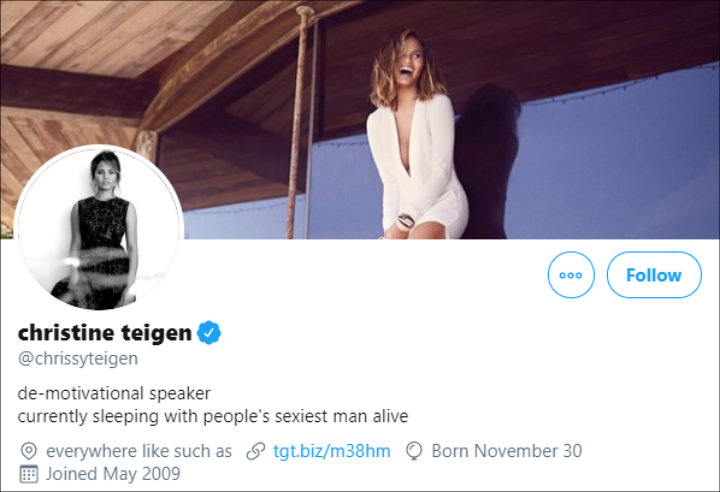 Chrissy updated her Twitter bio in honor of John.
Despite the trollings, Chrissy couldn't help but brag about John's new title. The star updated her bio on the blue bird app which now reads, "currently sleeping with people's sexiest man alive."