Latest
Cory Booker Hints at Marriage to Rosario Dawson Amid Engagement Rumors
By
|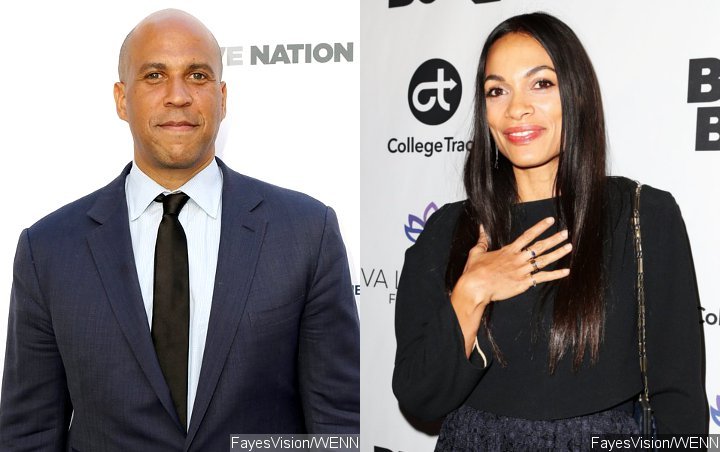 Stopping by RuPaul's new morning talk show, the 50-year-old presidential hopeful also gushes over the former 'Daredevil' actress by calling her 'somebody very special.'
AceShowbiz –
It looks like wedding bells are ringing for Rosario Dawson and her boyfriend Cory Booker. The latter has added fuel to rumors of them taking their relationship to the next level when he stopped by RuPaul's new morning talk show.
In an unreleased clip that was obtained by TMZ, RuPaul was seen telling the presidential hopeful that he would be the first unmarried president in a long time should he win the upcoming election. Answering the question, he calmly said that the inauguration day isn't until January 21, 2021, adding, "You never know what might happen between that." Does it mean that he plans to tie the knot with Dawson before that day?
Elsewhere during the chat, Booker also gushed over the former "Daredevil" star, whom he dubbed "somebody very special." The camera then panned to show Dawson looking lovingly at her senator boyfriend.
This arrived amid engagement rumors between the lovebirds. Dawson first sparked the rumors when she was spotted flaunting a new diamond sparkler on her ring finger when she spoke at the NBC Upfronts presentation last month.
Dawson and Booker confirmed that they're an item in March, two months after their dating report first emerged in January when they were seen together at the Regal Union Square in New York. At the time, people were suspicious whether their romance is a ploy to win over voters, but he has since insisted that he's smitten with the actress.
"She and I are not trying to put this through a political lens. We're just two people in love trying to build a great relationship every single day," he said. "In my best case scenario, I get elected to president, I serve two terms. That's just 10 years… nine years of my life. What I'm trying to create with Rosario is something that'll last forever."