Internet
Donations For Native Americans Flood In From Irish People, Returning A Historic Favor From 1847
Donations For Native Americans Flood In From Irish People, Returning A Historic Favor From 1847
May 6, 2020

A Native American community severely impacted by the Coronavirus pandemic has received an outpour of donations from Irish people, who are returning a historic favor from the mid-1800s.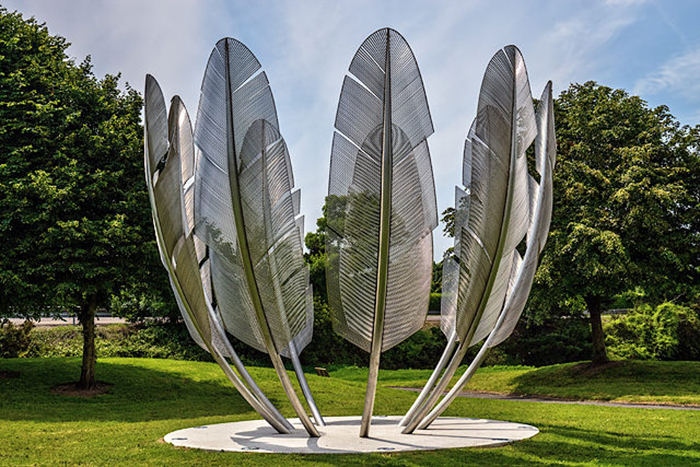 Kindred Spirits monument in Ireland

In a small town in County Cork, Ireland, a monument stands in appreciation to the American Choctaw Indian tribe. Although impoverished, shortly after being forced to walk the "Trail of Tears", the tribe somehow gathered $170 to send to Ireland for famine relief in 1847.

173 years later to today, the favor is being returned through generous donations from the Irish people to the Navajo Nation during this time of crisis.

"From Ireland, 170 years later, the favour is returned! To our Native American brothers and sisters in your moment of hardship," Irish donor Pat Hayes said.

The Navajo nation has one of the highest infection rates per capita in the United States. Up to 40% of people living in the nation do not have access to running water in their homes and 10% do not have electricity.

The GoFundMe campaign "Navajo & Hopi Families COVID-19 Relief Fund" has raised more than $2.5 million as donations continue to pour in.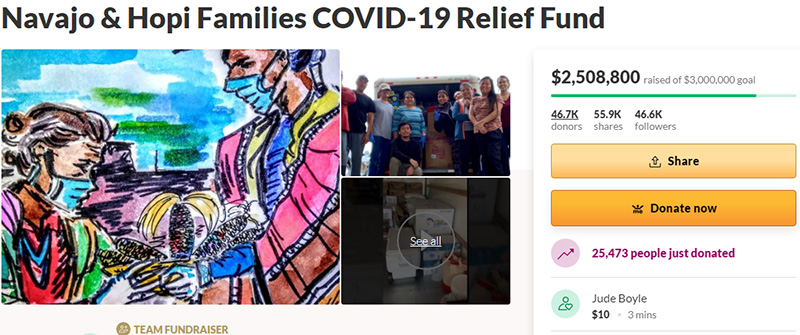 GoFundMe

"From an Irish brother to our native American brothers," writes donor James Fallon on the campaign page. "Karma always comes back around."

The online fundraiser is flooded with similar messages.

"Thank you for all that your people did to help my people during the great hunger, over the generations your kindness and strength of spirit was not forgotten. Together we will get through this," Sean Farrell wrote along with his donation.

"Joining the rest of Ireland in supporting you and hoping in a small way we can offer some comfort and friendship in your time of need," donor Malachy Geraghty posted.

"The Choctaw and Navajo people helped the Irish during the Great Famine, despite their own suffering. When I learned about it, I never forgot it. It's history now, but we are still grateful. Thank you!" wrote Michael Corkery, who donated $200.

The GoFundMe page was set up to help Navajo and Hopi communities in Northern Arizona, Southern Utah, and New Mexico. The fund is prioritizing the elderly, especially those raising their grandchildren, as well as single parents and struggling families.

"In moments like these, we are so grateful for the love and support we have received from all around the world," Vanessa Tulley, the fundraiser organizer, wrote. "Acts of kindness from indigenous ancestors passed being reciprocated nearly 200 years later through blood memory and interconnectedness. Thank you, IRELAND, for showing solidarity and being here for us."
Please consider making a donation to Sunny Skyz and help our mission to make the world a better place.