Latest
'DWTS' Alum Sharna Burgess Addresses Gay Rumors After She's Pictured Kissing a Woman
By
|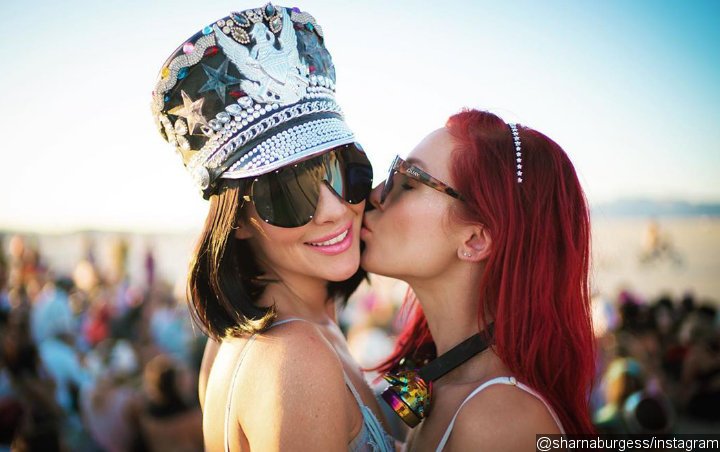 The September 5 photo showed the Australian pro dancer kissing hairstylist Kennedy Van Dyke on the cheek while attending Burning Man Festival with a slew of her friends.
AceShowbiz –
Sharna Burgess recently sparked gay rumors after she posted on her Instagram account a photo of herself kissing a woman. Fans unsurprisingly flooded the comment section to express their thoughts on the speculations, prompting the former pro-dancer on "Dancing with the Stars" to give them some explanations with an inspirational message.
The September 5 photo showed Sharna sharing photos of her attending Burning Man Festival with a slew of her friends. The red head, who opted for a white body suit with a rainbow accesories at the back, was seen kissing her friend, hairstylist Kennedy Van Dyke, on the cheek in one of the photos.
"Playing in the dust creating mischief magic and memories, falling in love with souls, falling in love with energy, finding my tribe, sharing my truest unfiltered and uninhibited self and discovering my own unlimitedness… THAT is what it's all about. That is what's fed my soul and filled my heart," so she wrote in the caption.
Upon seeing her showing intimate moment with a fellow woman, one fan wrote, "So that's why you didn't fall for the gorgeous cowboy a couple of seasons ago, because you're gay."
Sharna then set the record straight, explaining, "This woman is my sister, her husband who took the photo is my brother and I have unconditional love for both of them." She went on adding, "I hope you are comfortable with sharing affection with the people you love in your life, both men and women, it's a beautiful thing."
Later on, she took to Instagram Stories to post a video in which she said, "Kissing another woman on the cheek does not make one gay. There is that to start with. But also, I hope that you guys are all comfortable with sharing love and affection to the people that you love most in your life. It is a beautiful thing to be able to express your love and gratitude for the people who mean so much to you and I do that a lot. I'm a very physical person."
"I don't know if it's because I'm single and everyone's trying to find a reason for that and it is humorous, but also I want to say that there's no need for the shade and the comments underneath, attacking the people who ask. People are curious and that's OK. Nothing was offensive about the question at all and it's not a problem to be asked," she added.
"But I just want to say that… show the people in your life love and affection. Kiss on the cheek," the Australian pro dancer continued. "Give them a big bear hug. Send them your energy through your own skin and let them know how much you appreciate them because we have some special people in our lives and we should let them know how much we love them."
Sharna was announced to be skipping upcoming season 28 of "Dancing with the Stars". The new season is set to debut on Monday, September 16 at 8 P.M. on ABC.
Next article


50 Cent Calls Nicki Minaj 'Crazy' Over Retirement Announcement: 'Just Take a Break'