Internet
Homeless Man Finds $17,000 Cash And Gives It To Local Food Bank
Homeless Man Finds $17,000 Cash And Gives It To Local Food Bank
December 6, 2018

A homeless man is being praised for turning in $17,000 cash to a food bank in Sumner, Washington.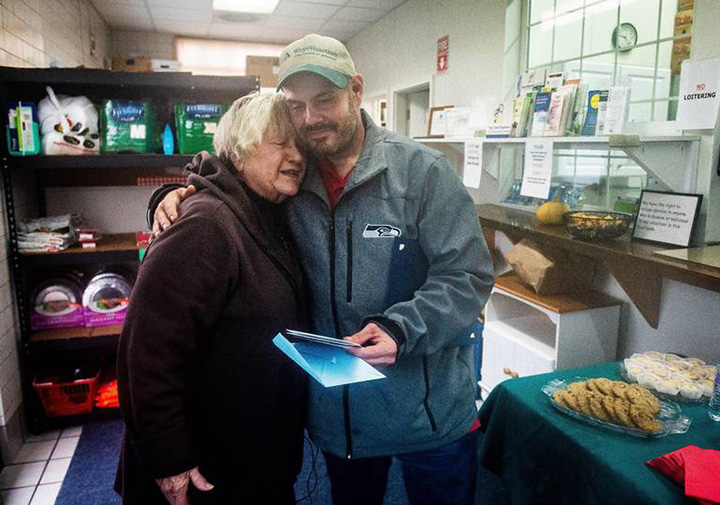 Kevin Booth hugs Anita Miller, director of Sumner Food Bank

Kevin Booth found a brown bag on the ground outside the Sumner Food Bank's community bread box while looking for the bread that is left outside the building for people to take. When he looked inside, he saw it was filled with cash.

Booth waited outside the foodbank until it opened about 20 minutes later and handed the bag to a volunteer who opened the door for him.

The volunteer initially thought it was food and weighed the package.

It wasn't food. It was $17,000 in cash.

Stunned, they called police. The Sumner police department determined the money was real and used security cameras to try to figure out what had happened. They couldn't determine who dropped off the bag, but they did see who found it.

Police kept the cash for 90 days, the length of time required under state law for someone to make a claim of ownership.

No one did, so the money went to the food bank.

To thank Booth for his honestly, the food bank is giving him part of the money in gift cards as a reward.

The Sumner police department also presented Booth with a citizen's citation, noting that Booth told officers he knew giving the money to the food bank would benefit more people than just himself.

"There are a lot of people who would have taken it," Booth told The News Tribune. "I'm just not that person."

After hearing about his story, a GoFundMe page was launched by a Sumner resident to raise money for Booth.

"He did not take one dollar from that bag Not one," Kurtis Hedge wrote on the GoFundMe page. "Bless his heart and service to others that he made the choice based on knowing that MANY mouths would be fed w that money. Lets keep it real… MANY of us wouldn't have made that same decision. But RIGHT now is OUR time to Give back to this selfless man who touched people's Hearts and Bellys w ONE DESICION. The Food bank has been giving him Fred Myers gift cards at the beginning of the month in gratitude for that choice, BUT I BELIEVE THIS YOUNG MAN IS GOING TO BE BLESSED BEYOND BELIEF BY HIS CHOICES. Lets show him what these actions mean to Us… That we are ready to help him now. Lets see this man get into a place of his own and make this an amazing Christmas for his kind soul."
Please consider making a donation to Sunny Skyz and help our mission to make the world a better place.