Latest
Iggy Azalea Flaunts Flat Stomach in Post-Baby Pictures and Video
By
|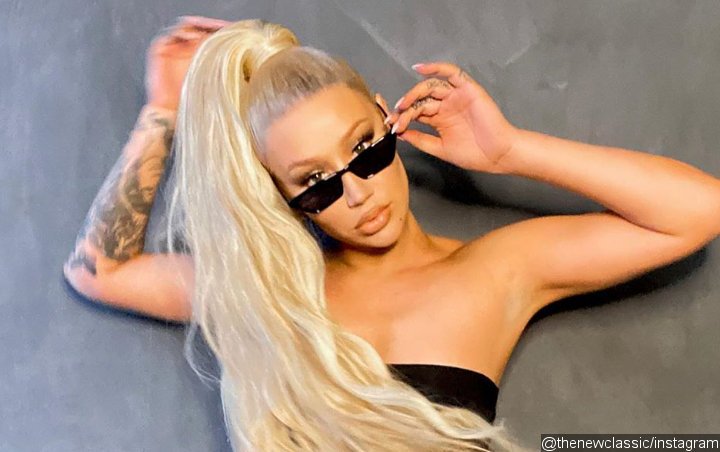 The 'Black Widow' raptress stuns her fans with her apparent postpartum snap-back, days after she confirmed that she had welcomed her first child, a baby boy.
AceShowbiz –
Iggy Azalea has got nothing to hide, two months after it was reported that she had given birth to her first child. The Australian rapper has flaunted her post-baby body in new pictures and video she posted on her Instagram page on Monday, June 15.
The 30-year-old star rocked a silky one-shoulder black top and a pair of curve-hugging black jeans of the same color in a couple of photos, accentuating her slim waist. Her hair was styled in a high ponytail as she also wore black shades. "Keeping things simple in @fashionnova," she captioned the paid promotion post.
Meanwhile in the video, the Sydney-born artist flashed her bare stomach in a sleeveless black crop top while someone got her makeup done. She wrote in the caption, "Beat by @erosmua Hair by @hairbyiggy."
Needless to say, her latest Instagram posts have left her fans gushing, with one being awed at how fast she appeared to regain her pre-baby body back. "The snap back is crazyy," the said fan wrote in the comment section.
"S K I N N Y LEGEND," another highly praised the "Black Widow" hitmaker, while a third person dubbed her "body goal." One person stunned user wrote, "Damn Iggy, you make my day," another enthused, "Iggy is the definition of MILF," and someone else added, "You are perfect."
Iggy was reported to have given birth to a baby boy in April, but it's not until earlier this month that she confirmed the news. "I have a son," she wrote in a message to her fans via Instagram Stories on Wednesday, June 10. On why it's only now that she shared the news, the Grammy nominee explained, "I kept waiting for the right time to say something but it feels like the more time passes the more I realize I'm always going to feel anxious to share news that giant with the world."
Iggy, who has been keeping her relationship with Playboi Carti low-key, also revealed her intention to keep her son's life private, but it was never her intention to keep him a secret. "I want to keep his life private but wanted to make it clear he is not a secret & I love him beyond words," the "Fancy" spitter declared.
Iggy did not share other details about her son, including his name and who the father is. But it has been no secret that she and Playboi have been dating since late 2018. In December 2019, they moved into a new home in Atlanta together. In the same month, rumors of Iggy being pregnant first started going around, but neither Iggy nor Playboi ever confirmed the news.
Next article


Cardi B Brags About 'Lipo Money' While Firing Back at Body-Shamers for Editing Her Photos