Internet
Iowa Woman Honored For Fostering More Than 600 Children
Iowa Woman Honored For Fostering More Than 600 Children
January 14, 2020

A woman in Johnson County, Iowa, has been recognized for nearly five decades of serving as a foster parent to more than 600 children.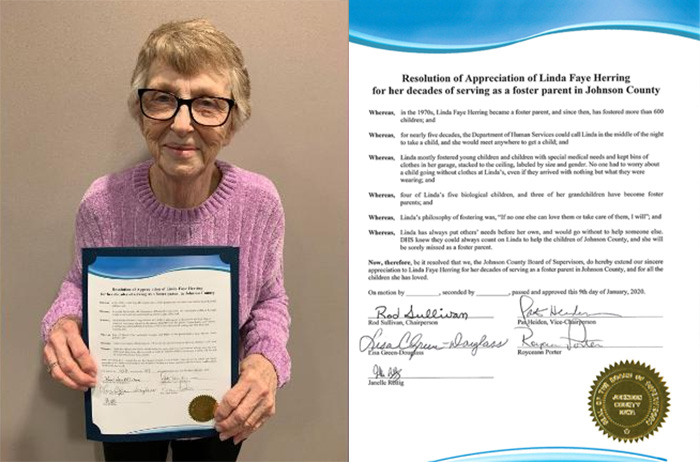 Credit: @JohnsonCountyIA / Twitter

Linda Faye Herring started fostering children in the 1970s with her husband, Bob.

"My best friend was doing foster care for teenage girls and I thought, 'Well, that would be nice to do the same,' but I wanted little kids," Linda told CNN. "So, I talked to the Department of Human Services and agreed to take kids with medical needs."

Linda soon became known by everyone in Johnson County for never turning away a child, no matter their age, gender, or special needs.

"The Department of Human Services would call Linda in the middle of the night to take a child, and she would meet anywhere to get a child," the Board of Supervisors wrote in Linda's Resolution of Appreciation.

Credit: @JohnsonCountyIA / Twitter

When asked why she does it, she had one answer: love.

"I would just love [my foster kids] just like they were my own, probably more than I should," Linda said.

"I cried when the kids would leave my home, no matter how long they had been there. It was so hard for me to say goodbye to them. I always questioned, 'Why do I keep doing this?' because it was never easy to say goodbye to a child. But I kept doing it because I had so much love to give to these children in need."

Linda's love for all has been passed on to her children, too.

Four of her biological children have fostered children. Three of her grandchildren fostered children as well.

In October 2019, Linda decided to stop fostering children due to health concerns.

After announcing her decision to stop, Linda was honored by the Johnson County Board of Supervisors, with a resolution of appreciation.

The Board of Supervisors, Department of Human Services and a standing room only crowd recognized Linda Faye Herring last night for nearly five decades of serving as a foster parent to more than 600 children in #JohnsonCountyIA. pic.twitter.com/wGV4jqEBMj


— Johnson County, Iowa (@JohnsonCountyIA) January 10, 2020

Though her time as a foster parent is over, Linda enjoys the photos and cards she receives from the children she fostered after they've been adopted.

Her favorite part is when her foster children come back to visit after they've grown up.
Please consider making a donation to Sunny Skyz and help our mission to make the world a better place.