Internet
Japanand#039;s Players Leave and#039;Thank Youand#039; Note In Russian After Heartbreaking Loss
Japan's Players Leave 'Thank You' Note In Russian After Heartbreaking Loss
July 3, 2018

The Japanese national team showed outstanding sportsmanship and have proved to be the world's classiest team after losing an absolute heartbreaker to Belgium in the World Cup.

After the 3-2 loss, the players stuck around after the game and bowed to their loyal fans.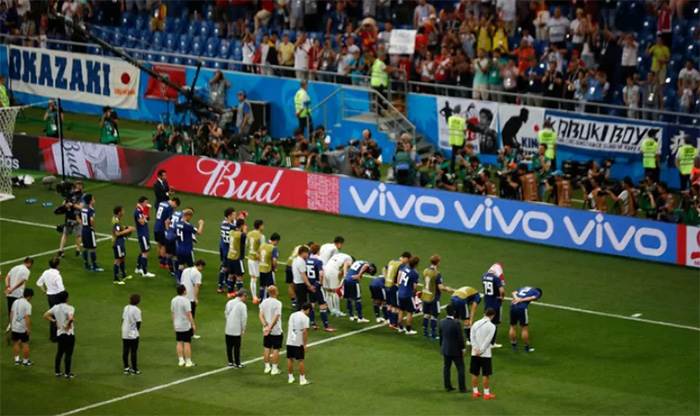 Credit: Getty Images

The fans showed their appreciation as well by sticking around and cleaning up the stadium after the loss.

Even after losing, Japan fans still stayed behind to clean up the stands 👏 pic.twitter.com/Q5t9akokKy


— Bleacher Report (@BleacherReport) July 2, 2018

The Japanese national team also did some cleaning. They left their dressing room spotless and wrote a "Thank You" note in Russian.

Amazing from Japan.

This is how they left the changing room after losing v Belgium: cleaned it all.

And in the middle, have left a message to Russia: "Spasibo" (Thank you) pic.twitter.com/lrwoIZt2pR


— Tancredi Palmeri (@tancredipalmeri) July 3, 2018

Belgium may have won the game, but the Japanese players and fans have won the hearts of soccer fans around the world.
Please consider making a donation to Sunny Skyz and help our mission to make the world a better place.