Latest
Jordyn Woods Accused of Bleaching Her Skin After Showing Off New Look
By
|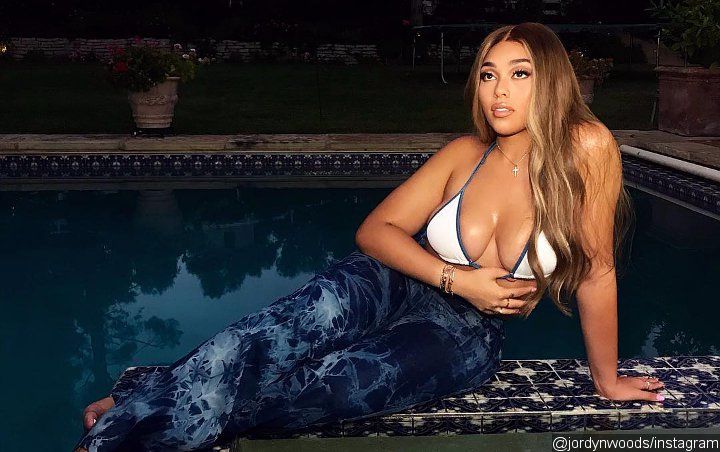 Seeing a video of the 'Life of Kylie' alum playing with her new long brown wig, some people can't help but think that she looks 'more and more like a white woman.'
AceShowbiz –
Jordyn Woods merely wanted to show off her new look to her social media followers, but she looked so different than her usual self that people began to speculate whether she got a cosmetic treatment. The former Good American Jeans model left people wondering whether or not she bleached her skin after she posted on Instagram a video of her rocking a new wig.
In the video, Jordyn was playing with her long brunette wig that he teamed with a one-shoulder crop top and blue training pants. She simply completed the fashion with several bracelets and a silver Rosario necklace. "Not now, maybe later," she wrote underneath the post.
Her brown wig surely made her look a lot more different than usual, prompting people to have a hard time recognizing her at first. It got worse when people noticed how her skin looked lighter, and that led to the skin bleaching speculation. One person was already convinced and wrote, "What did she do bleach herself… she looking a lot lighter wtf."
"Sis getting lighter and lighter," another posted, prompting one to respond, "She was brownskin before shes lightskin now." Someone else said that Jordyn looked "more and more like a white woman," while one other urged her not to "go white on me girl!" One person said, "Talking bout black Queens but ending up white lol."
Jordyn hasn't responded to the accusation.
Her skin bleaching allegation aside, the brown wig is not the only new look that Jordyn got for herself. Prior to this, the "Life of Kylie" alum took to Instagram Stories to share a since-expired video of her new tattoo that her brother Joshua inked on her arm. Her new tat appeared to feature a sentence running from her elbow all the way to her wrist, though the words could not be seen clearly.