Latest
Kodak Black Apologizes to Yung Miami for 'Petty' Lyrics in Deleted Tweet
By
|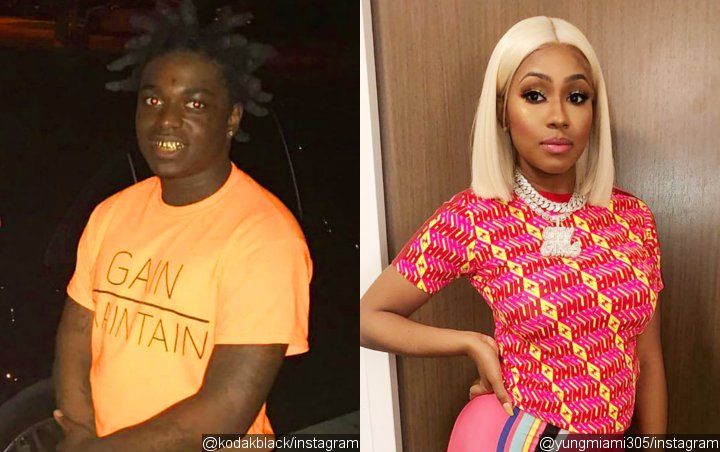 Fans already find the tweet suspicious because 'Kodak would never say this,' according to one user, while another fan responds to the rapper's now-deleted tweet, 'Who tweeted this for you.'
AceShowbiz –
Kodak Black previously made headlines following his offensive rap about Yung Miami in which the latter threatened to hit the pregnant star. Kodak apparently realized how "petty" it was, so he decided to take to his Twitter account to issue an apology.
"#YungMiami Gimmicks Are For Suckas, As I Sit Back I Realize How Petty That Move Was And As A Man It's Certain Things We Refrain From," read the tweet on August 10. He added, "Ain't no smoke with you bra, f**k that lame s**t. I pray y'all have a healthy baby and a prosperous life. Besides, b***h, we got more hits to make."

Kodak Black apologized to Yung Miami for the offensive lyrics in a now-deleted tweet.
However, it seemed like he had a change of mind because he scrubbed the tweet. Fans already found the tweet suspicious because "Kodak would never say this," according to one user. Another fan responded, "Who tweeted this for you."
Kodak sparked controversy when did a freestyle from in jail, rapping how he wanted to punch the City Girls member in the stomach while she's pregnant with 808 Mafia producer Southside's child . "I bought Yung Miami a ring, she bought an 808 baby/ When I see her, I'ma hit that bitch in her stomach," he rapped in the snippet which was recording during a jailhouse phone call. "The way I keep this shit too real they say I'm f***ing up my money," he added.
In response to that, Southside posted a video on Instagram Stories in which he said, "Somebody tell Kodak 'suck a d**k.' " The 808 Mafia member continued, "How 'bout that? Get up out of jail first, p***y."
Kodak didn't back down as he fired back. Reposting Southside's video, Kodak wrote in the caption, "I Ripped Dat Bih Ainna ?!! @808mafiaboss Put A Beat To It." As for Yung Miami, she didn't directly responded to Kodak following the offensive rap. However, she seemingly accused Kodak for doing "ANYTHING FOR CLOUT!!!!"
She went on saying, "I'm not entertaining no clown s**t!!! Only thing I entertain is money! Period."
Next article


Last Footage of Miley Cyrus and Liam Hemsworth Together Hinted at Their Cold Relationship