Latest
Lindsay Lohan Shades Paris Hilton With These Instagram Posts
By
|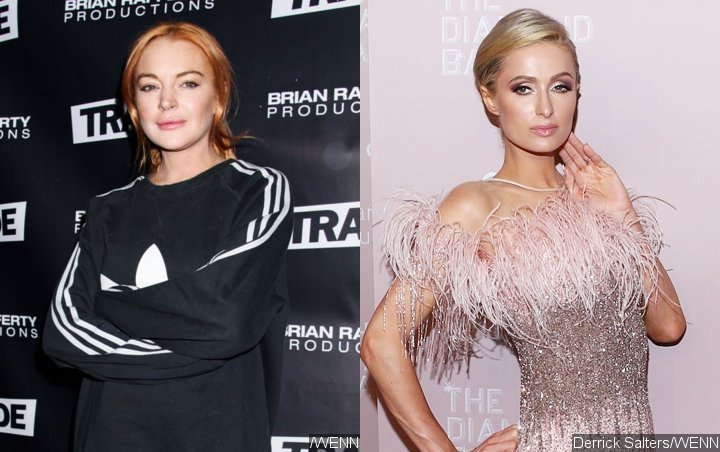 This arrives after the 'Mean Girl' actress' representative hits back at the hotel heiress for branding the former 'Lame' and 'Embarrassing' on 'Watch What Happens Live'.
AceShowbiz –
Lindsay Lohan is back in the shade game. Following Paris Hilton's recent comment about the "Mean Girls" actress during her appearance on "Watch What Happens Live", the latter has personally reacted to the remarks by subtly taking shots at her former best friends not just once, but twice.
She first started it by posting on Instagram on Friday, May 24 a throwback picture of her hanging out with the hotel heiress' sister, Nicky Hilton, simply leaving a butterfly emoji in the caption. Her followers were already convinced that the post was a shade aimed at Paris, and her next post only made them believe their speculation even more.
In the second post, Lindsay was not even trying to be subtle about her shade, sharing on the photo-sharing platform a black-and-white picture of the two during a night out. "#beyond friends are true. Love @parishilton congratulations on your new song!" she captioned the shot. It made quite a fuss among her followers, given the fact that Paris wickedly said during the show that the actress is "beyond."
Besides, Lindsay tagged "WWHL" host Andy Cohen on the post, making it clear that her caption was referring to the socialite's comments.
"The tea is exceptionally good and hot today," one follower commented. "OMG Lindsay! The shade queen!" another said, as one other jokingly wrote, "OMG !!!!! lol on Friday's we wear shade !!!!" There was also someone who exclaimed, "LOVING EVERY SECOND OF THIS LINDSAY," while one individual said, "This genuinely just made me laugh out loud."
Lindsay's rep has previously responded to Paris after she branded the "Herbie: Fully Loaded" actress "lame" and "embarrassing" on the Bravo talk show. Not playing nice, the spokesperson said in a statement, "Obviously, Paris needs to feel relevant and is desperate for attention."
Next article


YG Slams Fake Fans of Nipsey Hussle at Album Release Party