Internet
Man With 1% Chance Of Survival Released From Hospital After 2 Month COVID-19 Battle
Man With 1% Chance Of Survival Released From Hospital After 2 Month COVID-19 Battle
May 13, 2020

A man in California who was given a 1% chance of survival by doctors has been released from the hospital after a two-month battle with COVID-19.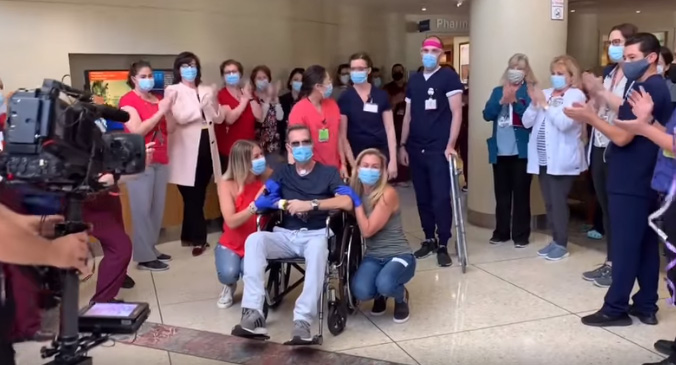 Providence St. Joseph Medical Center

54-year-old Gregg Garfield was in the hospital due to coronavirus for 64 days. For 31 of those days, he was on a ventilator.

And he beat the odds.

Garfield became ill and was hospitalized in early March after a trip to northern Italy in February.

Garfield suffered pneumonia and kidney failure. Four different parts of his lungs collapsed. He was unable to walk.

But with the help of physicians and physical trainers at Providence St. Joseph Medical Center in Burbank, California, he was slowly able to regain his mobility and returned home with a walker.

On the day of his release, the entire staff at Providence St. Joseph gathered for a round of applause.

"Amazing day!! Gregg Garfield, the first COVID-19 positive patient to be admitted to Providence Saint Joseph Medical Center on March 5 was able to walk out to go home today," the hospital wrote on Facebook.
Please consider making a donation to Sunny Skyz and help our mission to make the world a better place.