Internet
Neurosurgeon Negotiates Pay Cut To Perform Free Operations
Neurosurgeon Negotiates Pay Cut To Perform Free Operations
October 7, 2019

A neurosurgeon in New Orleans negotiated a 25% pay cut with his employer in exchange for longer holidays to help provide free medical care in Nigeria.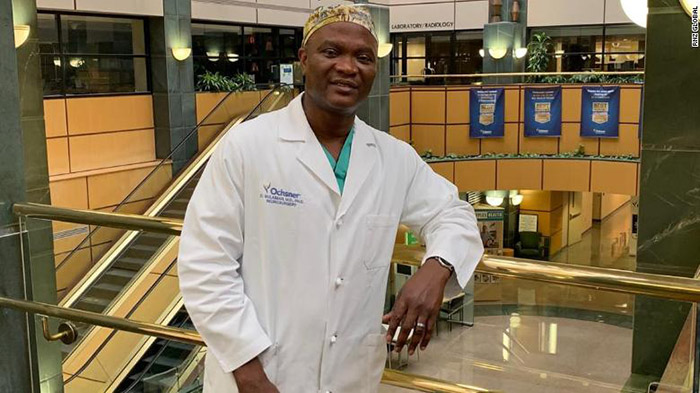 Dr. Olawale Sulaiman

Dr. Olawale Sulaiman, 49, is a professor of neurosurgery and spinal surgery at the Ochsner Neuroscience Institute in New Orleans. He lives in Louisiana, but splits his time between the US and Nigeria, spending up to 12 days each month providing healthcare in the country of his birth.

Sulaiman says his motivation comes from growing up in a relatively poor region.

"My siblings and I shared one room where we often found ourselves sleeping on a mat on the floor," he told CNN.

At the age of 19, Sulaiman received a scholarship to study medicine in Bulgaria. The scholarship opened many doors and, in turn, he feels responsible to give back through healthcare.

In 2010, Sulaiman established RNZ Global, a healthcare development company that provides medical services and offers health courses like CPR in Nigeria and the US.

"I would use my vacation times for the medical missions, which were also planned with education and training sessions. We donated a lot of medications, equipment and hands-on training on surgical techniques," he said.

Sulaiman said he negotiated a 25% pay cut with his American employer in exchange for longer holidays to Nigeria to pursue his passion.

RNZ Global has treated more than 500 patients and provided preventative medicine to up to 5,000 people in the US and Nigeria.

RNZ Global also has a not-for-profit arm called RNZ foundation. The foundation focuses on managing patients with neurological diseases for free.

"We offer free services and surgery for those that are less privileged and cannot afford the cost," said Blessing Holison, patient care coordinator for RNZ Global.

"I believe that happiness doesn't come from what you get, rather, it comes from what you give," Sulaiman said. "There is always room to give; you don't need to be a millionaire to give."
Please consider making a donation to Sunny Skyz and help our mission to make the world a better place.