Internet
Over $200K Raised For Bullied Boy With Dwarfism After Mom Shares Heartbreaking Video
Over $200K Raised For Bullied Boy With Dwarfism After Mom Shares Heartbreaking Video
February 21, 2020

9-year-old Quaden is an amazing little boy from Australia with dwarfism.

On Tuesday, his mother Yarraka Bayles picked him up from school and he was in hysterics. Quaden was being bullied so horribly in school, that he just could not take it anymore.

Mom was absolutely heartbroken.

She filmed her son to send a message about the effects of bullying to parents and educators around the world.

"This is the impacts of bullying!" she wrote. "I seriously don't know what else to do."

The bullying was so severe, in the video Quaden can be heard saying, "Give me a knife — I want to kill myself."

The video, which has 20 million views, reached comedian Brad Williams, who also has dwarfism. He decided to help.

Williams reached out to Quaden's family and launched a GoFundMe page to send the boy and his mother on an all-expenses-paid trip to Disneyland.

"I'm setting up this GoFundMe to let Quaden know that bullying will not be tolerated, and that he is a wonderful human being who deserves joy. I want to fly Quaden and his mother to America, get them a nice hotel, and bring them to Disneyland," Williams said.

"This isn't just for Quaden, this is for anyone who has been bullied in their lives and told they weren't good enough. Let's show Quaden and others, that there is good in the world and they are worthy of it."

The fundraiser, which had a goal of $10,000, has raised over $200,000.

Not only is money pouring in, but also messages of love, acceptance, and encouragement.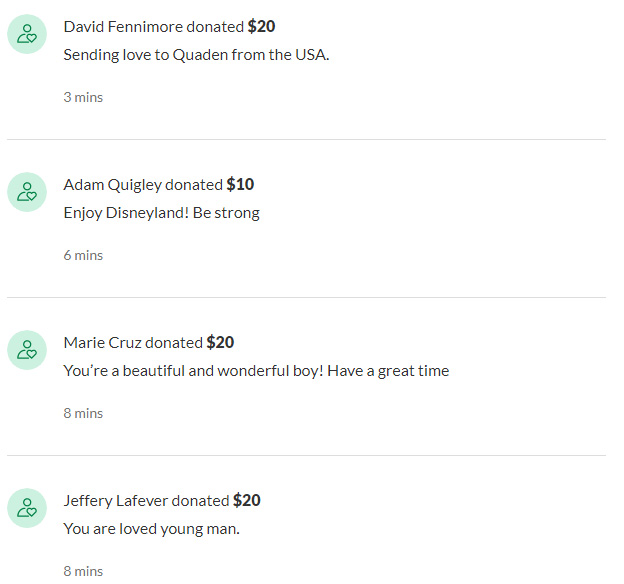 Williams said any money left over after flights, hotel, food, tickets and some spending cash for the family will be donated to anti-bullying/anti-abuse charities.
Please consider making a donation to Sunny Skyz and help our mission to make the world a better place.