Latest
Report: Pop Smoke's Mom Puts Up Her House to Get Son Released From Jail
By
|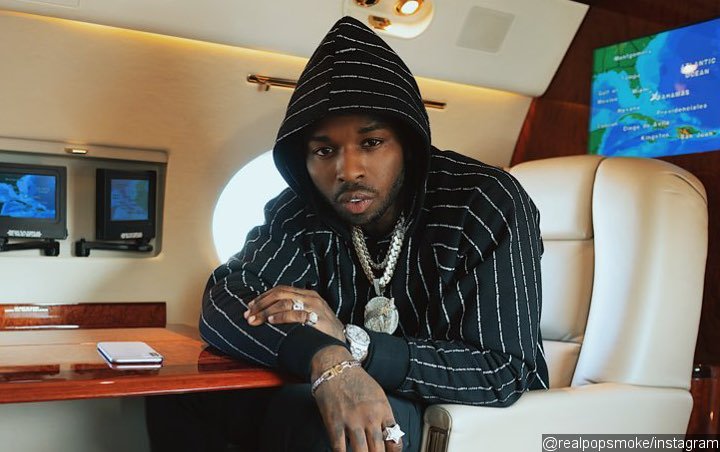 The 'Welcome to the Party' rapper has since been released and is even seen hanging out with his former nemesis, Casanova, and a few other friends in what appears to be a bar.
AceShowbiz –
Pop Smoke is breathing fresh air again just days after he was arrested for interstate transport of a stolen vehicle at John F. Kennedy Airport. Rumor has it, his mother played a big part in getting the "Welcome to the Party" rapper released from prison.
According to the report, Pop Smoke pleaded not guilty during a hearing taking place over the weekend and that his next court date is set on February 3. In addition to that, he was released on a $250,000 bond as his mom put up her home in Brooklyn, New York. Following the release, Pop Smoke has since been hanging out with ex nemesis Casanova and even documented their outing on social media.
In a video circulating online, Pop Smoke and Casanova were seen chatting with some other friends in what appeared to be a bar.
Pop Smoke was arrested by federal authorities for allegedly attempting to transport a stolen Rolls-Royce Wraith. Report stated that the rapper met the owner of the vehicle in November 2019 at an L.A. recording studio, where a "verbal agreement" regarding use of the car in a music video was established at one point. The car was allegedly agreed to be returned the following day, though it reportedly didn't happen. The owner then reported the car was stolen.
In courts documents obtained by Complex, Pop Smoke is charged with Interstate Transportation of Stolen Motor Vehicle. He is facing 10 years in prison.
Following his arrest at the time, Casanova turned to social media to call for his release despite their beef. He wrote in all caps, "FREE POP SMOKE I DONT WISH JAIL ON NO MAN.YEA I KNOW HE CALL ME TRASH A NOVA WHEN I CATCH HIM IM GONNA KNOCK HIS TEET OUT… UNTIL THEN BROOKLYN FOREVER."
Next article


Netflix Shows Interest in Working With Prince Harry and Meghan Markle Amid Royal Drama