Internet
Safety Officers Calm Violent Man By Singing And Dancing
Safety Officers Calm Violent Man By Singing And Dancing
February 8, 2019

Ellen and Robert Hughes expected the worst when they took their son, Walker, who had been on a violent rampage, to Loyola University Medical Center in Illinois.

But they were inspired by two hospital public safety officers who calmed him down by singing and dancing.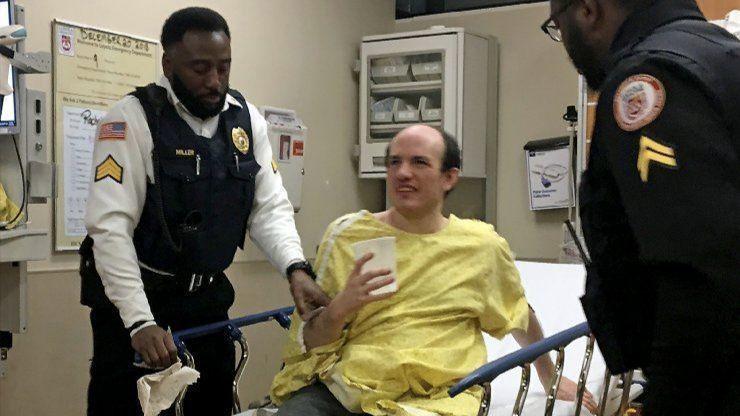 Credit: Ellen and Robert Hughes

After a "paradoxical reaction" to a medicine that was supposed to calm Walker down, he became extremely violent. He rampaged through the house that day, tackled his father to the ground and started biting him.

Their doctor suggested they take Walker to the hospital immediately.

On the way to the ER, Walker pulled his mother's hair and tried to strangle her from the back seat.

As soon as they entered the hospital, Walker bit his mother's hand and she screamed.

"Picture it," she tells The Chicago Tribune, "here's this fragile little mom, the aged parents. Walker's huge and he's violently attacking me and suddenly there's all these cops on him. I'm thinking, 'My God, they're gonna kill him'."

In the room where Walker had been taken for tests and medication, he kept bolting off the examination table. Instead of using force to restrain him, the officers took a different approach.

For two and a half hours, the officers danced. They sang children's songs. They harmonized on the "Mr. Rogers" theme song.

"Walker loved it," Ellen said. "He was kind of mystified and charmed and started smiling. They were men his size who considered him a real person. It's scary when people don't think you're a real person. You have autism and you can't talk — but you're a person. It's scary to be treated like a lion from the zoo. We've been to the doctor and the hospitals a million times and I've never seen anything like these guys."

Walker is currently getting good care now and recovering from taking the wrong medication.
Please consider making a donation to Sunny Skyz and help our mission to make the world a better place.