Internet
Strangers Donate Trailer To Family Who Lost Home In Camp Fire
Strangers Donate Trailer To Family Who Lost Home In Camp Fire
November 30, 2018

A Butte County Sheriff's deputy, his wife and two small children who lost their home in the Camp Fire now have a place to stay, thanks to a generous donation from strangers.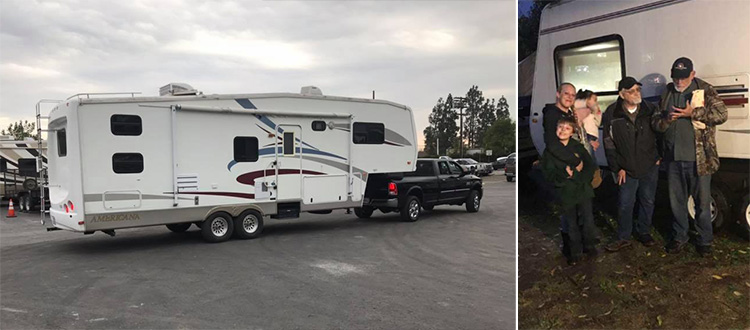 Credit: Troy Hill / Facebook

This is what Troy Hill wrote on Facebook:

"There is a Santa!

On Monday my boss informed me we were getting rid of a used trailer that we no longer needed.

His wife suggested we donate it to a victim of the Paradise Fire (450 miles away).

I started a search but I could not tell a real need from a scam (people are sick). Who knew it would be so hard.

On Tuesday I suggested we donate it to a first responder. So I called the Butte County Sheriff Dept. and told them what was up.

Within a couple of hours I was connected to a young officer who had a wife and two small children. They had lost everything.

Now, the question was, how do we get this rig up there – fast.

Yesterday I called friends with both the Los Angeles Police Dept. and Sheriff's Dept, and within 1.5 hours I had officers from both departments offering help.

At 3:00 yesterday afternoon the two off-duty Deputies showed up in a truck they had to borrow from a local business.

They were prepared to make the 900 mile trip (a brother needed help). They also showed up with two big bags of new toys for the kids.

It was also decided we should leave everything in the RV (pots, dishes, etc) and let them decide what they could use and donate the rest.

Santa does not always wear red, sometimes he wears safety green.

Elfs don't always wear green, some times they wear LAPD blue and sometimes they wear Sheriff green.

Some days I love my job!

It's been a tough few weeks here in California. This is just our way of saying thank you to all the first responders who are standing the watch.

I left names off this post, but you know who you are.

Thank you everyone!

Especially Santa's wife, it was her idea!!!

Ps: At 11:45 last night the family had their new home.

And at 6:30 this morning the two deputies were home taking a nap before their next shift.

Great job guys!!"
Please consider making a donation to Sunny Skyz and help our mission to make the world a better place.