Internet
This 10-Year-Old Is Sending Thousands Of Art Kits To Kids In Homeless Shelters And Foster Care During The Pandemic
This 10-Year-Old Is Sending Thousands Of Art Kits To Kids In Homeless Shelters And Foster Care During The Pandemic
May 21, 2020

A 10-year-old girl in Danbury, Connecticut, is sending art kits to children in homeless shelters and foster care to lift their spirits during the coronavirus lockdown.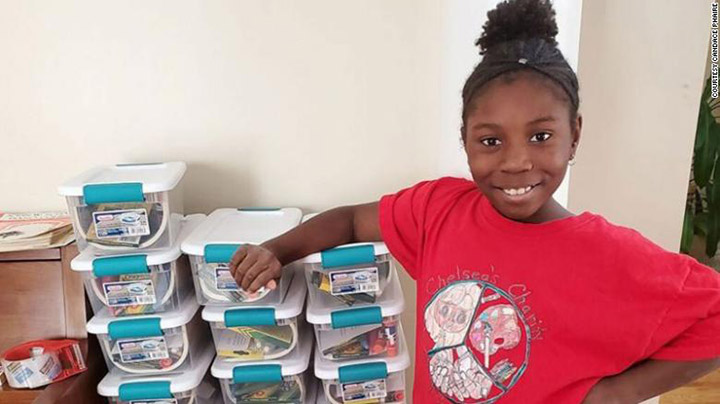 Through her charity, Chelsea Phaire has sent more than 1,500 art kits — which include markers, crayons, paper, coloring books, and colored pencils — to homeless shelters and foster care homes art kits to give the children something uplifting to do when they're feeling down.

Chelsea's parents helped her launch "Chelsea's Charity" on her birthday in August 2019, when she asked party guests to donate art supplies instead of getting her birthday gifts.

"Since she was seven, she was begging me and her dad to start a charity," Candace Phaire, Chelsea's mom, told CNN. "She was so persistent, every couple of months she would ask, 'Are we starting Chelsea's Charity yet?' When she was turning 10, she asked us again, and we decided it was time to go for it."

After her birthday, Chelsea used the donations to send out her first 40 art kits to a homeless shelter in New York.

Before the pandemic, Chelsea traveled with her mom across the country to meet the kids in-person and taught them some of her favorite drawing techniques.

Now that Chelsea is unable to physically interact with the kids, she is mailing the art kits.

Since March, when schools began to close, Chelsea has sent over 1,500 kits to schools, shelters, and foster homes in 12 states across the US.

James Storehouse, a non-profit that serves children in foster care, is one of the organizations that received art kits from Chelsea.

"It gives the children and teens a fun creative outlet to channel their energy because they can't be in the classroom right now," said Stacy DeWitt, the executive director of James Storehouse. "Chelsea's kits have been a blessing to many children in hard places and have brought them joy."



"I feel good inside knowing how happy they are when they get their art kits," Chelsea told CNN. "I have definitely grown as a person because of this. Now my dream is to meet every kid in the entire world and give them art. Who knows, maybe if we do that and then our kids do that, we'll have world peace!"
Please consider making a donation to Sunny Skyz and help our mission to make the world a better place.