Internet
This Guy Is Sending Out Tennis Balls In Remembrance Of His Best Friend. He Never Expected This Response
By
|
This Guy Is Sending Out Tennis Balls In Remembrance Of His Best Friend. He Never Expected This Response
January 22, 2016

In remembrance of the 2-year anniversary of his dog's death, a California man is making it his mission to promote quality time with your pet by sending tennis balls to anyone who wants one.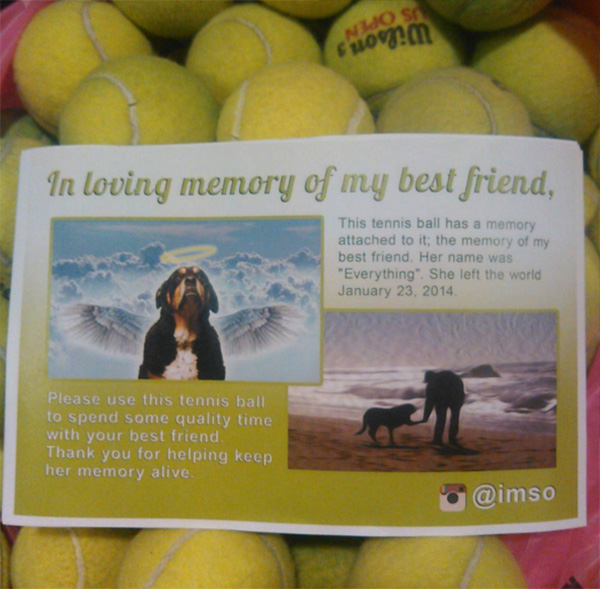 Instagram

Chris Sontag-Ratti, of Hayward, California, wrote on Instagram:

"On Jan 23 I'll mark 2 years without my best friend. I purchased 100 tennis balls last week. I plan on sending them to anyone who wants one. I hope that all the people who get a ball from me will use it to spend some quality time with their best friend. If you would like a ball please email me your name and address and I will send you one. Direct message on IG works too. If you know someone who might like a ball feel free to tag them. I cover all costs… My email is chubbywater@gmail.com The artwork on the flyer was put together kindly by @steezjuice.. Edit: wow, I am blown away by the requests for tennis balls. Going to have to buy some more now. Thank you to everyone who requested a ball. Ill do my best to make sure everybody gets one. Thank you all."

The post amassed more than 8,000 likes in just one day.

"I have a ton of emails in my box," he told ABC News. "Yesterday I was thinking I wasn't going to be able to get rid of all the balls I purchased. Today I'm trying to figure out how I can afford to buy some more. The response has been amazing and overwhelmingly positive. I'm blown away really.

"I am getting requests to send tennis balls all over the world," he added. "I haven't really made a list of where I'll be shipping to but I have seen Australia and Ireland, Japan, I didn't expect this and will do my best to accommodate all requests for a ball."