Latest
This Is What Shaunie O'Neal's Son Myles Thinks About Her Reconciling With Shaquille
By
|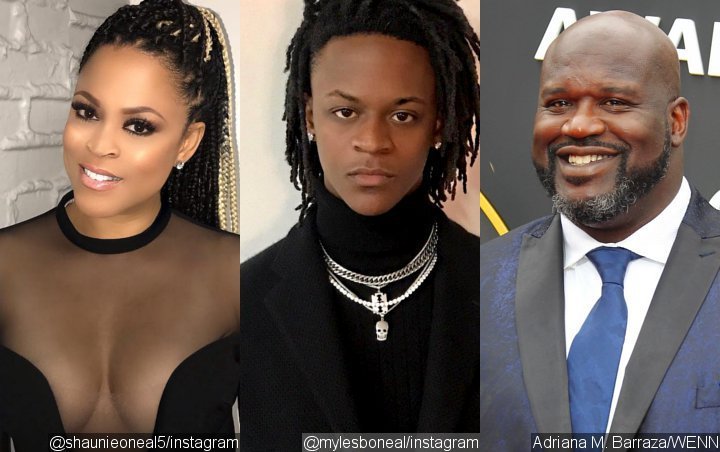 In the latest episode of 'Basketball Wives', Shaunie asked her son about his opinion on the idea of her and the Hall of Famer, with whom she shares four children, getting back together.
AceShowbiz –
Myles O'Neal has given his two cents on the idea of his mother Shaunie O'Neal getting back together with his former step-dad Shaquille O'Neal. In the latest episode of "Basketball Wives", Shaunie was curious to see what her son would think about them getting back together.
It all started when they were unpacking in her new home following an attempted robbery. When Shaunie said she wanted to make an order from a classy restaurant, Myles didn't seem to be down with the idea and told her to just go there with her date. The VH1 personality said she didn't have someone she could go with, and that prompted Myles to tell her to call Shaq.
"I don't want to go on a date with your dad. He wants to go on dates with me!" she replied back, clearly not buying the suggestion. This conversation apparently made Shaunie curious as to how Myles would think if she and Shaq get back together for real, but Myles said that he isn't sure about what to feel.
Later, in a confessional, Shaunie dished on her children and her relationship with Shaq, "They've seen us not in a great place and now they see us in a great place and they're like, 'What the hell is going on here?' Nothing. Nothing's going on here." She added, "In Shaquille's mind, I think I am always gonna be his wife even though that's not the case. The love is always there and he's one of my best friends and we have a great time together and our kids love just being a family."
Shaq and Shaunie, who were married for about seven years, sparked reconciliation rumors last month after they were seen playfully packing on the PDAs during a family dinner at Mastro's Restaurant in Beverly Hills. While Shaunie responded to the rumors with a face palm emoji, the Hall of Famer said, "That's mine."
Next article


Steve Harvey's Wife Marjorie Invites Fans to Lavish Birthday Party for $8K Each