Internet
Two Strangers Rescue Woman From Sinking Car After Witnessing and#039;Horrificand#039; Accident
Two Strangers Rescue Woman From Sinking Car After Witnessing 'Horrific' Accident
June 15, 2020

Two strangers did not hesitate to dive into murky water when they saw a vehicle sinking into an irrigation ditch in Tracy, California.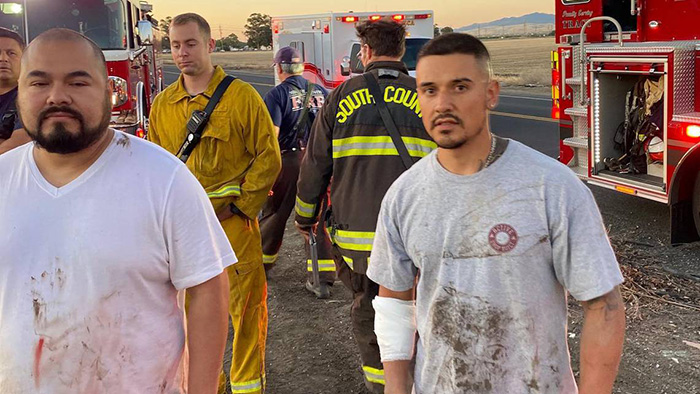 Jorge Mendoza and Daniel Miranda / Credit: Tracy Firefighters Association

On Wednesday morning, around 4:50 a.m., Daniel Miranda was on his way to work when he witnessed what he called a "horrific" accident.

He saw a car go out of control, hit a pole, spin more than dozen times and then land upside down in an irrigation ditch.

Then it started to sink.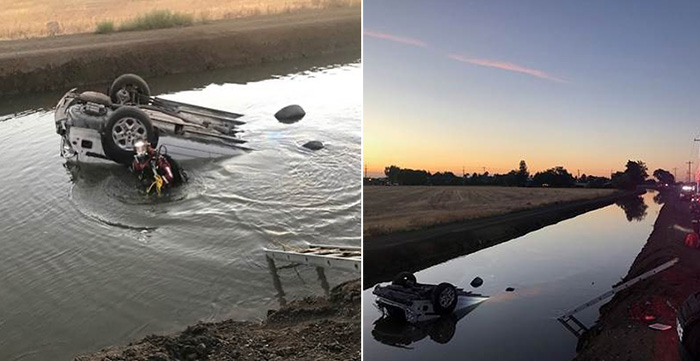 Credit: Tracy Firefighters Association

"I thought, 'I can't just sit here'," said the 27-year-old. "The car was sinking deeper and deeper in the water. I said, 'Man, time to go in'."

Jorge Mendoza, another witness to the accident, followed suit.

The Tracy Firefighters Association has commended Miranda and Jorge Mendoza, along with Alameda County Sheriff's Department technician Fred Cutaia, for coming to the rescue of the driver.

"This is a picture of two heroes. Earlier this week our firefighters were dispatched to a vehicle that had rolled over into a ditch. This was in the early hours of the morning just before sun up. The driver of the car was a young female who's car rolled several times and landed upside down almost completely submerged in an irrigation ditch. These two men who were traveling in separate cars and did not know each other, witnessed the accident. They immediately pulled over and worked together to free the unresponsive woman who was still in the submerged car. At this time Alameda County Sheriff Deputy Fred Cutaia, who was on his way to work joined the effort. Together they performed CPR and were able to revive her prior to our crews arrival. She lived. It's not everyday that that two total strangers risk their own lives to save another total stranger. This act of courage is a shining light of how good people can be. @tracyfirefighters would like to recognize Jorge Mendoza, Daniel Miranda and Fred Cutaia for their heroic life saving efforts."
Please consider making a donation to Sunny Skyz and help our mission to make the world a better place.