Latest
Wanda Sykes and Scott Baio at Twitter War After She Defends Joe Biden's 'Ain't Black' Remark
By
|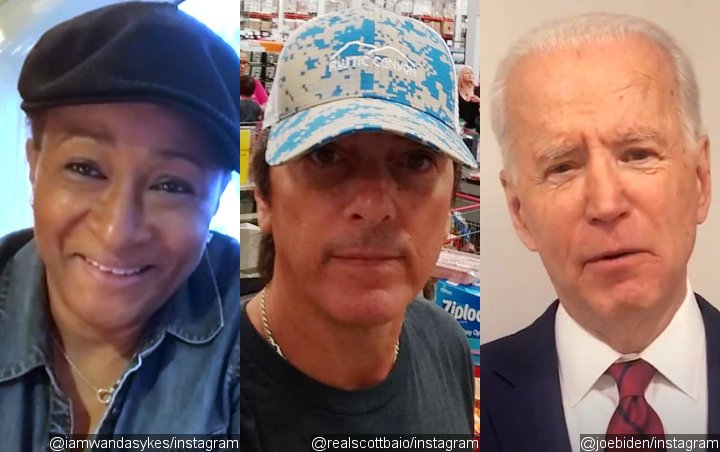 The 'Black-ish' actress drags the 'Happy Days' alum for comparing Biden's controversial comment to Roseanne Barr's racist tweet, in which she likened former Obama adviser Valerie Jarrett's to an ape.
AceShowbiz –
Wanda Sykes and Scott Baio clearly don't share the same political views, but her recent statement of support for Joe Biden has set an online war between them. The actor, who is known for his role as Chachi Arcola on "Happy Days", took aim at the actress/writer after she defended the former vice president's controversial "ain't black" remark.
"Biden feels at home speaking to the Black community. He made a joke," she wrote at the time, before taking a jab at President Donald Trump, "Comedy ain't easy, but he didn't say 2 go shoot Clorox in our tits."
Baio, a vocal supporter of Trump, tweeted on the same day Sykes posted her opinion last Friday, May 22, "Hey @iamwandasykes why is it okay for @JoeBiden to say something clearly racist but @therealroseanne gets kicked off of her own show that YOU are a writer on, for making a mistake?" He went on blasting her, "Is it because you're a full of s**t, hack liberal?"
Baio was referencing to Roseanne Barr's controversy in 2018, when she compared Valerie Jarrett, a black former senior advisor to President Barack Obama, to an ape on Twitter. As a result, the veteran actress exited her ABC sitcom "Roseanne" and her character was subsequently killed off its spin-off "The Conners".
Several days later on Wednesday, May 27, Baio tried to get Sykes' attention again by tagging her in a re-tweet of a video that showed her calling Trump an "orangutan" during a stand-up. The video labeled her as a "hypocrite."
Sykes, who was a consulting producer on the "Roseanne" reboot, only took notice of Baio's tweets that day and didn't waste any more time to clap back. "Oh! Hey Chachi. Apologies, I didn't see you. I'll keep it short. Joe Biden didn't say, 'Then you ain't an ape,' " she wrote back. "Well, let me get back to work…I hope you enjoy whatever it is that you do."
Biden came under fire last week after saying during a radio interview with Charlamagne tha God that black people who vote for Trump "ain't black." He told the host, "I tell you what, if you have a problem figuring out whether you're for me or Trump, then you ain't black."
Hours later, he regretted making the statement, saying that it was "really unfortunate" for him to make such racial comment. "I shouldn't have been such a wise guy," the presumptive Democratic presidential nominee added. "I shouldn't have been so cavalier."